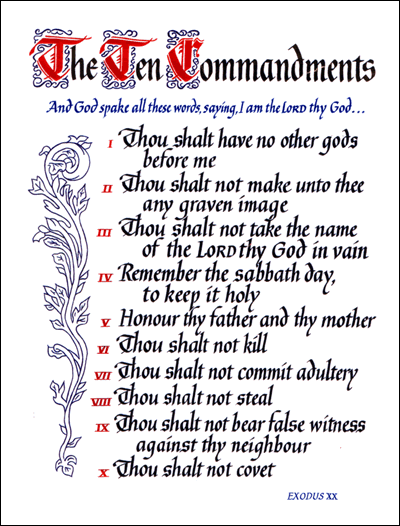 Scripture declares:
Ezekiel 3:18
, When I say unto the wicked, Thou shalt surely die; and thou givest him not warning, nor speakest to warn the wicked from his wicked way, to save his life; the same wicked man shall die in his iniquity; but his blood will I require at thine hand.
For this reason, do to the recent boast of using the name of God and Jesus Christ in vain on my blog, which I have not allowed to be posted, I have decided to post this warning to both the believer and non-believer.
The commandments of God are very clear in that one is, "
Thou shalt not take the name of the LORD thy God in vain; for the LORD will not hold him guiltless that taketh his name in vain
."
In the Old Testament law of Leviticus, "
he that blasphemeth the name of the LORD, he shall surely be put to death, and all the congregation shall certainly stone him
".
Today there is physical grace and mercy whereby a blasphemer is not put to death, and I am in no way saying that we should put into law that all blasphemers should be put on death row, I would much rather all people to repent and turn to Christ.
I am saying that although today blasphemers are not brought before the people and put to death, it does not mean that God does not still hold the person guilty, for it is written, "
That every idle word that men shall speak, they shall give account thereof in the day of judgment.
"
In my lifetime I have heard the taking of "the name of the LORD thy God in vain" by the following groups and ways.
1] By Christians and non-Christians that simply use the name God while playing sports or other things instead of "goodness", "man", and other words in a moment of exasperation or such.
2] By Christians that claim to believe in God and His Book, claim to love Him but may or may not act like it, and use His name alone or in conjunction as in cursing, but also sometimes in excitement but not necessarily over godly things.
3] By Atheists that claim they do not believe in God or Jesus Christ or that they actually exists or ever existed, but use their names alone or in conjunction as in cursing.
I ask why is the blasphemy of the name of God and the Lord Jesus Christ necessary. Is it done for the sake of trying to upset others; is it done because there is such a
hatred for God and Christianity
; or is it simply something that really just
comes from within
without the thought of what one is really saying?
Continue as you may, but please consider the warning.